Epic Movies Bringing Trucking to Life
Continuing our Top-Pick series, we're looking at some of the best films that have brought the trucking industry to the big screen. Often truck drivers spend long periods of time waiting at yards to be unloaded/loaded or taking rest time on their breaks. Movies are a great source of entertainment during those off-hours and nowadays they are easily available right from your phone! From old school noirs to popcorn action flicks, these films are entertainment that brought truckers to the big screen and redefined them to their audience. Check below as we list some awesome flicks and where you can watch them!
First up we got film noir, 'They Drive By Night' (1940), starring Humphrey Bogart, George Raft, and Ann Sheridan; directed by Raoul Walsh
Synopsis: "When one of 2 truck driving brothers loses an arm, they both join a transport company where later, the other is falsely charged as an accessory in the murder of the owner."

Rent/purchase: Amazon Prime, iTunes, Google Play, Vudu
Next we have Steven Spielberg's directorial debut, 'Duel' (1971) starring Dennis Weaver, Jacqueline Scott, and Carey Loftin
Synopsis: "A business commuter is pursued and terrorized by the malevolent driver of a massive tractor-trailer"

Rent/purchase: Amazon Prime, Google Play, Vudu
Here's 'White Line Fever' (1975) starring Jan-Michael Vincent, Key Lenz, and L.Q. Jones; directed by Jonathan Kaplan
Synopsis: "In the 1970s Arizona, a young married man becomes an independent long-haul driver and he risks his life fighting the corruption in the local long-haul trucking industry."
A Chuck Norris flick is next with, 'Breaker! Breaker!' (1977) co-starring George Murdock, and Terry O'Connor; directed by Don Hulette
Synopsis: "Truck driver searches for his brother, who has disappeared in a town run by a corrupt judge."

Rent/purchase on Vudu
We of course have to include the ultimate trucking-film, 'Smokey And The Bandit' (1977) starring Burt Reynolds, Sally Field, and Jerry Reid; directed by Hal Needham
Synopsis: "The Bandit is hired on to run a tractor trailer full of beer over state lines, in hot pursuit by a pesky sheriff."

Rent/purchase: Amazon Prime, iTunes, Google Play, Vudu, stream on Starz with subscription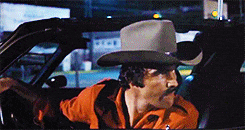 Next we have, 'High-Ballin'' (1978) starring Peter Fonda, Jerry Reed and Helen Shaver; directed by Peter Carter
Synopsis: "Two truck drivers fight off thugs who have been hired to drive them out of business."
Now is the classic based on the iconic tune by C.W. McCall, 'CONVOY' (1978) starring Kris Kristofferson, Ali MacGraw, and Burt Young; directed by Sam Peckinpah
Synopsis: "Truckers form a mile long "convoy" in support of a trucker's vendetta with an abusive sheriff..."

Stream on the service Tubi
Next in author Stephen King's sole directorial effort we have, 'Maximum Overdrive' (1986) starring Emilio Estevez, Pat Hingle, and Laura Harrington
Synopsis: "A group of people try to survive when machines start to come alive and become homicidal."

Rent/purchase: iTunes, Amazon Prime, Vudu and Google Play or stream on Starz with a subscription
'Black Dog' (1998) starring Patrick Swayze, Meat Loaf, and Randy Travis; directed by Kevin Hooks
Synopsis: "When an ex-con reluctantly agrees to drive a mystery load cross-country, he unwittingly becomes part of an explosive, pedal-to-the-metal battle between a gang and the FBI."

Rent/purchase: Amazon Prime, iTunes, Google Play, Vudu, stream on Starz with subscription
Finally we have the poignant documentary, 'BIG RIG' (2007), directed by Doug Pray
Synopsis: "A portrait of contemporary American life, as seen through the eyes of long-haul truck drivers."

Stream: Amazon Prime

Rent/purchase: iTunes, Google Play
Honorable Mentions:
Transformers (2007), starring Shia LaBeouf, Megan Fox, and Peter Cullen; directed by Michael Bay

Because come on: Optimus Prime
Synopsis: "An ancient struggle between two Cybertronian races, the heroic Autobots and the evil Decepticons, comes to Earth, with a clue to the ultimate power held by a teenager."

Rent/purchase: Amazon Prime, iTunes, Google Play, Vudu
'Joy Ride' (2001) starring Paul Walker, Steve Zahn, and Leelee Sobieski; directed by John Dahl
Tagline: Don't mess with strangers

Synopsis: "Three young people on a road trip from Colorado to New Jersey talk to a trucker on their CB radio, then must escape when he turns out to be a psychotic killer."

Rent/purchase: Amazon Prime, iTunes, Google Play, Vudu
Did your favs make the list? What are your favorite films to take with you on the road? Leave them in the comments below and share. Also take a look at our curated Spotify playlist of tracks from the films' soundtracks to take with you on your hauls!
While many factoring companies simply provide basic services, the team at Financial Carrier Services wants to do more. We're passionate about not only helping trucking businesses grow and succeed, we care about each driver on the road. If you have been waiting on an unpaid invoice, we can help. With our reliable and trustworthy factoring services, you don't have to wait on unpaid invoices anymore. We offer contract-free services that will get you the funds you need immediately, not months away. In addition, we also provide equipment and tag financing to help move your business forward. Contact us today to learn more!